Much has been written and said about the factor of Topal Osman. Here I will try to reveal this factor by concretizing it a little more based on the pages published in the Annuaire Oriental and Yeşil Giresun newspapers, and to show the bloody capital transfer realized by exterminating Christians and seizing their properties and lives during the genocide process.
Annuaire Oriental does not just describe the social and commercial structures, the business lines and the production structures of the states, provinces, cities and districts. It also unfolds many things. The pages of the annuals hide many things too. Comparing annuals with each other allows easy tracking of capital movements.
Here, we will try to examine and compare the commercial structures of Giresun district between 1914 and 1922. Giresun is a place where the Greek element prevails in terms of both population and economy, and Captain Yorgi has been mayor for more than 20 years uninterruptedly.
The commercial life of Giresun in 1914 seems very lively. As a port city, it appears to be highly developed in trade and craft, as well as one of the centres of international trade. The composition of Giresun's population, which was 19,000 in 1914, was stated as 7,500 Turks, 8,500 Greeks and 3,000 Armenians.
At the very beginning of the World War (1914), the weight of Greeks and Armenians in business life in Giresun was clearly visible. This importance is evident in all branches of trade and craft. There are also Muslim-Christian partnerships in these years.
In the annual, the population of Giresun in 1922 was stated as 20,000, but the distinction between religion and nationality was not shown. We chose 1922 as a special year because it was the last year of the war, and no peace treaty was signed yet, and there was no exile under the name of commutation.
Although Armenians and Greeks preserved their presence, albeit a small amount in the commercial life of the neighbouring provinces in 1922, not a single Greek and Armenian remained in the commercial life of the Giresun. It is clearly seen in the 1922 annual that the commercial life of Giresun narrowed with the extermination of Christians. Some business and craft branches had disappeared. Another bitter reality is that Giresun was disconnected from the world in 1922.
In 1914, Christians are the real actors of the economy. They are economically strong and able to compete with the imperial powers. Their labelling as comprador is clearly a distortion. This expression is intended to conceal the quality of Muslim-Turkish capital. At least I think that the two sons of Pontos, Pisani[dis] and Mavri[dis], were the biggest slap in the face of this understanding. Mavridis and Pidanidis are international actors of the hazelnut trade.
Although almost all of Armenians disappeared in 1921 according to the Annuaire Oriental, and Greeks largely preserved their place; Greeks also suddenly evaporated completely in 1922. We can read this situation as "the miracle of Topal Osman". Giresun has been "nationalized". We would not be exaggerating if we say that today; the wholeheartedly adopting Topal Osman by the people of Giresun is because they achieved the opportunity in their dreams, thanks to him.
While no one from the Topal Osman family known as Feridun Zade family took part in trade in 1914, we see his older brother, Feridun Zade Hacı Hasan, among the reputable merchants of Giresun in 1922. Topal Osman holds his invitations and meetings in the mansion of Giresun's richest family. He has seized the mansion of Mavridis family, whose one individual was executed by the decision of the execution bodies so-called Independence Court. A sale announcement of 4.5.1936 in the Yeşil Giresun dated April 11, 1936, confirms that he had deed a part of the property belonging to Mavridis family over to himself. In the announcement on the same day, the shop and house plots of Kiziroğlu Vahan and Mihran, which were confiscated as abandoned properties, were also put up for sale:
| | | | | | |
| --- | --- | --- | --- | --- | --- |
| Quarter | Street | No | Description | Previous owner | Price (Liras) |
| Seldeğirmeni | Saytaş | 3580 | Garden | Mavridi[s] Mihalaki's wife Anna and Feridun Osman Agha's sons | 500 |
| Hacı siyum | Târiki cedit | — | Shop & house plots | Kiziroğlu Vahan and Mihran | 700 |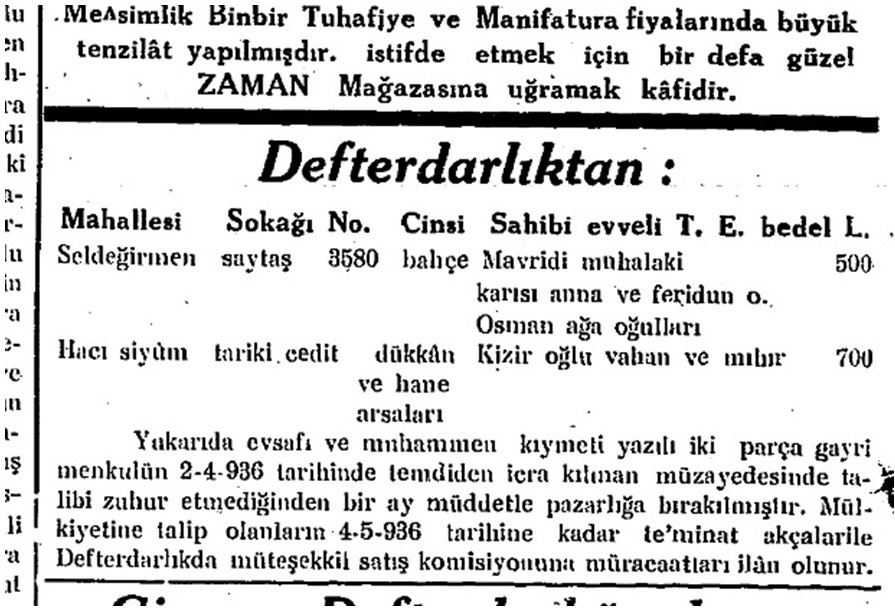 In 1922, there were no traces left by Armenians and Greeks, with the except of a multinational company and four foreign insurance companies remained operating in many fields. We see a Muslim trader who had been the agency of one of these companies.
It would be fair to say that while Christians were rooted away from their historical lands, the Second Young Turks could not restrain an imperial/multinational company make the scene in many areas.
Upon the destruction of Christians, we see that the people of Giresun are made in need of bread. Because Mavridis has a mill no longer. The Memoirs of the Communist Armenian Hayk Açıkgöz are recommended to those who want to understand the importance of the mill business. The Memoirs[i] of Hayk Açıkgöz, an Armenian communist, are recommended to those who want to understand the importance of the mill.
The family of Kırzadeler, which came into existence in 1922, is also an interesting family. They appear in the list of 'Exterminators' by Patriarch Zaven as the criminals of the Armenian Genocide. Kırzade Şevki who was Trabzon member of İttihat ve Terakki Cemiyeti (Committee of Union) occupies the 18th place of this list, which includes those organising and perpetrating the Armenian Genocide in Turkey; and Acente (Agency) Mustafa (Kırzade) occupies the 19th place thereof[ii].
Kırzade Mustafa[iii] have been arrested as responsible for the Armenian massacres in Trabzon and sent to Malta. Mustafa, the member numbered 2976 of Teşkilat-ı Mahsusa (Special Organization), is one of the first exiles to escape from Malta. He had escaped from the Island with Van Governor and Enver Pasha's brother-in-law Cevdet (Belbez) called the 'Kasap' (Butcher) due to fitting Armenians with horseshoe. It is recorded in the British reports that they went to Italy. The presence of Mustafa's wife in Italy shows that this escape was an organized act.
While Kırzade Şevki was continuing his commercial life in Giresun, Kırzade Mustafa of Trabzon was Ottoman Marine Traffic officer. Kırzade Mustafa joined into Istanbul merchants before he was arrested in the Armistice. We can say that his capital was transferred from Pontos Christians. Otherwise, how else can a provincial official trade in the capital city?
In the statement given by Sophie Tahmazyan, the daughter of Onnik Mohokan who was a former merchant and ferry agency in Trabzon, Mustafa is counted among those who perpetrated the genocide in Trabzon.[iv] And in Siranus Mutafyan's testimony, Mustafa (Kırzade) is held responsible for the murder of orphans.[v] Mustafa is among those who have been tried and punished in the Trabzon İttihat ve Terakki Case.[vi]
Kırzades are among those who realized transferring the Greek refugees to Greece during the population exchange. During the Kemalist period, they co-sailed with the family of Kalkavan Zade.
In 1922, before the deportation so-called exchange, not a single Pontian Greek and Armenian was were left in business life in Giresun, and the methods of Topal Osman, who did not leave Pontians to expel in the centre of Giresun, are inhumane.
Gencağa, one of Topal Osman's militia, tells with horror how Christians were exterminated even years later:
"- Once I reached the stream, I felt a light in the sky. I heard noises, shouts and screams. To see what was happening, I crossed the river and started running upwards and climbing. The next thing I saw when I came to the slopes of our village. Three-four houses are on fire, and some people are screaming in pain. They had filled all the inhabitants of the village in three-four houses and set them on fire alive. I started trembling with fear and pain. After half an hour or so, I returned to my house. When my father asked 'Where have you been until this hour?' I replied 'They are burning the village of Uncle Artin with their villagers'. My father closed the matter by warning said, 'That is definitely Topal Osman's job. Don't tell anyone. God forbid, we get into trouble; we would be slaughtered!' That night, everyone fell silent. We were afraid and pity the people who were burned. Those innocent little children who eat snails never leave my eyes. Nobody from our village ever went to that village again. We didn't even go to find out what was going on!
–So where did the people living in this village now come from?
– Topal Osman had gave the places of the Armenians to the relatives of his gang members."[vii]
Gencağa, guardian of Topal Osman, also tells how the confiscated properties of Armenians and Greeks were passed into other hands. Gencağa says that Kalkavan Zades were the ones who benefited mostly from the Genocide by Topal Osman. Topal Osman had shared the confiscated goods with them:
"-What happened to the houses and places of the Armenians?
– Osman Agha distributed these places one by one to those who joined us from the circle and their relatives or to the aghas who met the needs of our gang, helped us, called themselves Muslim.
–How did he do that?
– It's very simple: 'This house is yours, this field is yours, let you or your family cultivate this land,' he said; that is all! Already he is ruling with an iron fist; his orders is a law. He who underestimated, objected, did not like, already knew that he'd be killed.
– Was it like in or around Giresun?
– Of course. Take a look at the wealthy people of Giresun now. All of them are Osman Agha's relatives, uncles, uncles, aunt's children….
– For example?
– For example … his sons. He distributed properties to the strongest families and proprietors of that region in every district. The wealth of all of them comes from screwing Armenians or Greeks out of the houses and lands. They have been using it ever since, transferring from sons to grandchildren. After the proclamation of the Republic, they registered them with title deeds."[viii]
It is interesting that three members of this family, which were merchants in 1922, were among the founders of Müdafaa-i Hukuk Cemiyeti (Countrywide Resistance Organization) of Giresun under the presidency of Topal Osman. It can be easily said that this situation confirms the fact that the risk of losing what they have usurped during the genocide is the motive of taking up arms.
Larçin Zade Hakkı, Hasan Yazıcı Zade Hüseyin and Hacı Emin Zade are among the founders of this Organization.
There is also a merchant from Giresun among the people that Divan-i Harbi Örfi (Martial Court) established after the war wanted to judge together with Topal Osman. For now, there were two people from Giresun, who had to be tried: Topal Osman Agha and [Eşref] Sarı Mahmut Zade, one of Giresun notables. 'Kürt' Mustafa Pasha Court had issued a warrant for these two people to be caught immediately and sent to Istanbul… The gendarmerie commander has arrested and put on board Sarı Mahmut Zade to deliver to the 'Nemrut' Mustafa Court. We do not know how Sarı Mahmut Zade got rid of trial. However, he was allowed to escape o not know how Mahmut Zade survived the trial. However, he was allowed to escape without harming Topal Osman.[ix]
Speaking of the mass murders by Topal Osman, it would be hard to pass without mentioning the mass burning of Christians in the steamboat cauldron. Mehmet Şakir, one of Topal Osman's militia, narrates:
"[Osman] Agha asked the chief engineer: 'do you have a place to put them in the engine room?' Chief engineer Celal Bey didn't understand.. He was excited once Osman Agha said if there was a place in the stove. When 'Yahudi' (Jewish) Celal asked him what he meant and realized the incident, he started to shake. Osman agha gave orders to the gangs. Ordinary Greeks went one, two and three each into the cauldron. One Armenian remained after Greeks' being thrown into the cauldron of the ferry. Now it is time for him. When the Armenian, who always gave dusty answers to Topal Osman's words, understood that he would be burned, he cursed the agha and threw himself into the fire cauldron. When Osman agha asked Celal how the ferry is making a good way, Celal could not answer because his jaws were shaking. Of course, the steamer came to Ordu earlier in this way."[x]
Giresun Greeks entered the protection of foreign countries like other Ottoman minorities in very early dates in order to be protected from the unlawfulness of the Ottomans. Even Muslim subjects also got this protection. People whose surname ends with 'of/ov' are likely to be under Russian protection. There is no trace of those under protection in 1922. Meanwhile, Topal Osman develops sincere relations with the Bolsheviks and deals with arms trade.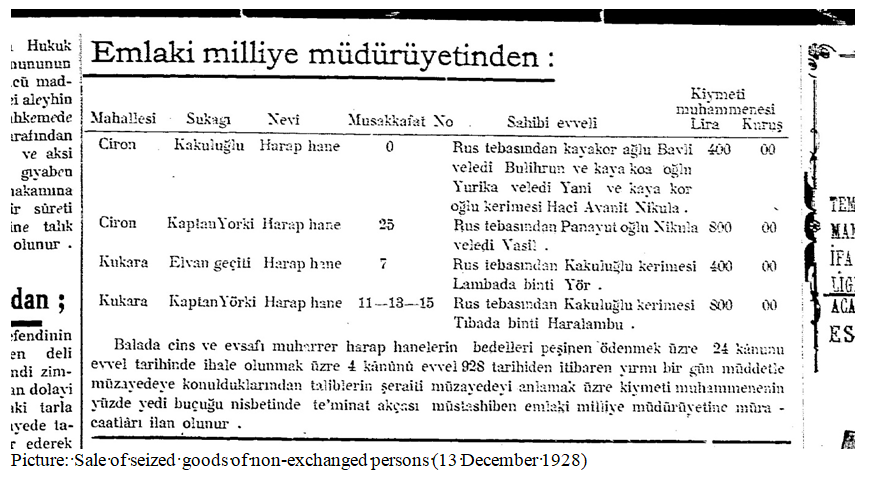 During the Kemalist period, we see on the pages of Yeşil Giresun that the seized properties of Pontian Greeks and Armenians were being sold at auction. Although those under the protection of another state and non-Orthodox Greeks were excluded from the population exchange, this was not applied in practice. Also, the goods of non-exchanged Pontian Greeks are also subject to auction. These are probably the Pontians who have been killed or who could manage to escape in order not to be killed. The goods of those who have been executed by so-called Independence Courts were also put up for sale at the auction.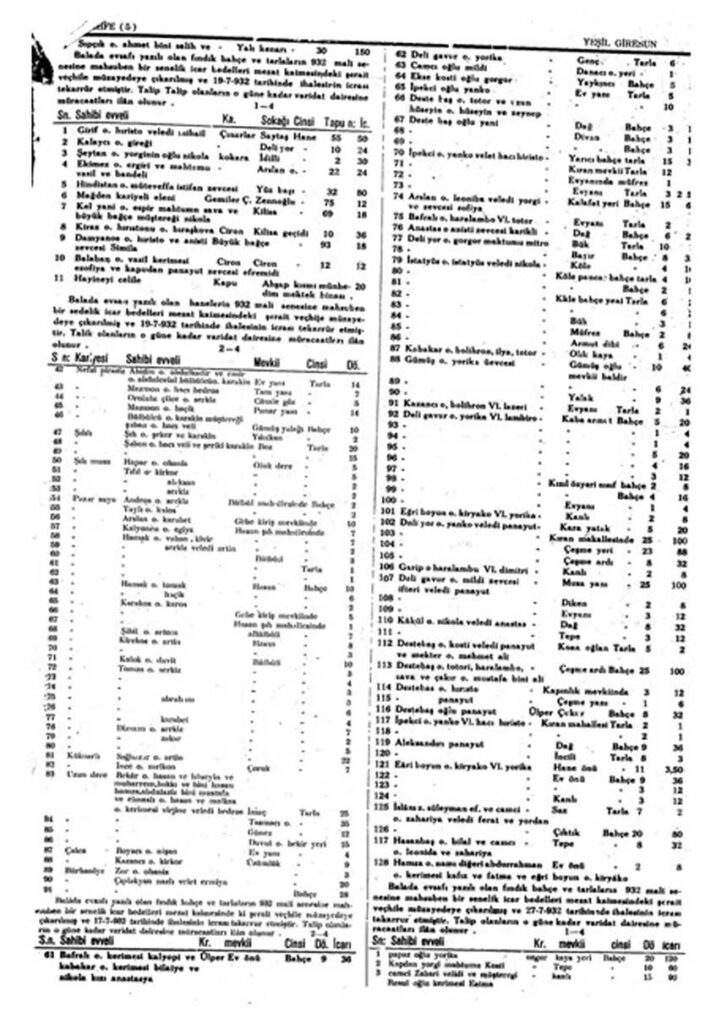 Important Teşkilat-ı Mahsusa personnel operating at the command level alongside Topal Osman also passed through Giresun. Among them are District Governor Pertev Bey (later General Demirhan) and 'Komitacı' Kazım (later Mayor of Erzurum Kazım Yurdalan) who ruled the Pontian pogroms in the Aegean.
Topal Osman's end had came in frustration, as it happened to all stooges when they completed their mission. His death is summarized in a short paragraph in the minutes of the Assembly:
"To the Speakership of Assembly
We propose that bloodthirsty governor Topal Osman, was caught injured as a result of the clash at his residence in Çankaya on this morning and later died, as one of the murderers of our brother Ali Şükrü, who was martyred for defending religion, homeland and independence be hanged in front of the Assembly.
2 April 1339 [1923]"[xi]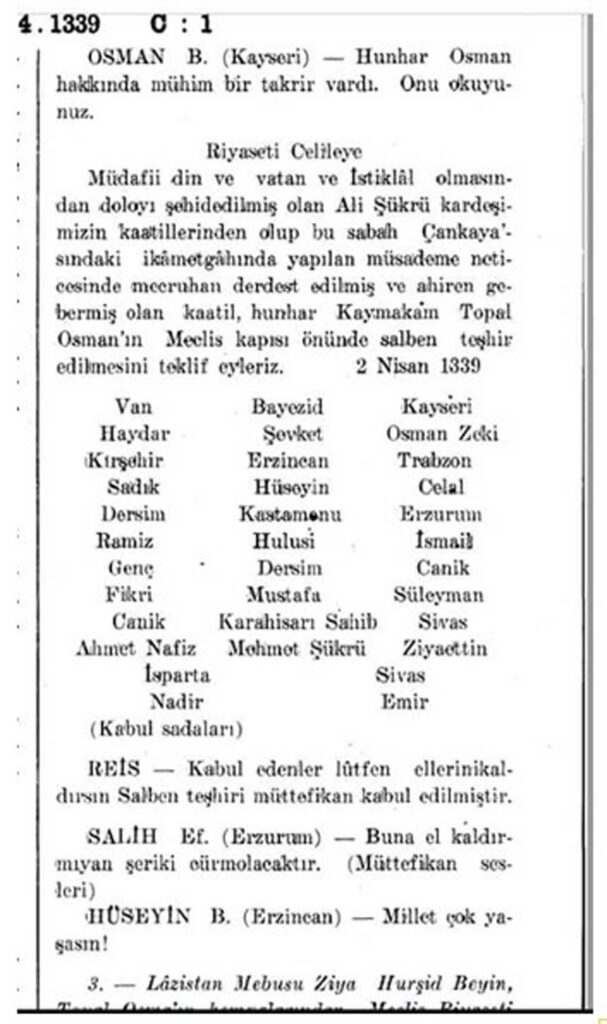 Since his head was cut, he was hanged by his feet and displayed in front of the assembly.
By the way, we should remind that, when Topal Osman was killed, it is reported in Vakit newspaper dated April 1923 that he left an inheritance of 500,000 lira.[xii]
We can say in a sense that Giresun is a lab of Turkicizationation/Islamization of the capital in Turkey. This capital transfer bypassed or ignored by economic historians is evident in Giresun. 3,000 Armenians and 8,500 Pontian Greeks in the center of Giresun were killed and their savings ano properties were confiscated. In this respect, Giresun's history is, in a sense, the black history of the capital. And Topal Osman is an important Jön Türk [Young Turk] figure, who carefully wrote this "black history" in Giresun, the heart of Pontos.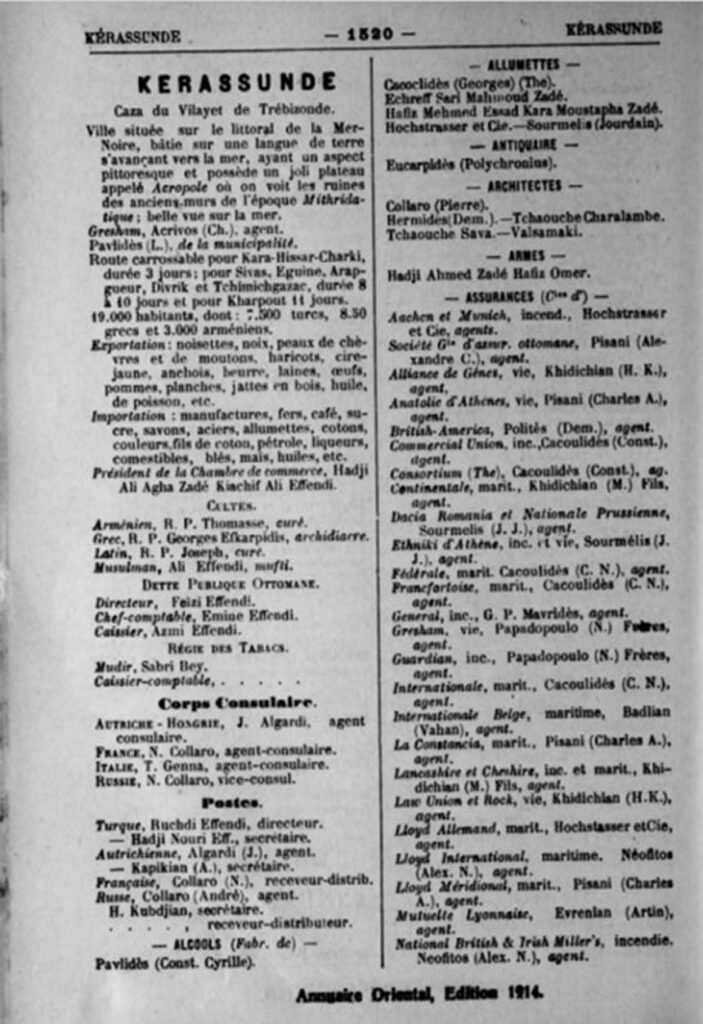 Giresun's social and economic life in 1914 (Annuaire Oriental pp. 1520-1524)
| | |
| --- | --- |
| Alcoholic beverages Pavlidis | Match Cacoulidés (George), Eşref Sarı Mahmut Zade, Hafız Mehmet Esad Kara Mahmut Zade, Hochastrasser ve diğerleri |
| Antique dealer Eucarpides Plychonis | Arms Hacı Ahmet Zade Hafız Ömer |
| Architects Collaro Pierre Hermides (Dem)-Tchouche Chaharalambe Tchouche Sava-Valsamaki | Lawyers Aftonidis Effendi- Hermidés Panayottis Molla Zade Ali Ağa- Toros Effendi Zorian Apik Effendi |
| Banks Osmanlı Bankası Dir. C. Sadoch Ziraat Bankası Hacı Ali Zade Kosif Eff. Manque Franco Turque Hrachia Maral Garibian | Lumber materials Delicaris (Nicolas)-Keakuloğlou Fréres Mavridée Fils(G.P.) Zarifi (I) Dir. Mossiadés (G) |
| Bankers Mavridés(P) Fils-Pisani[dis] (Georges C.) | Grains Cacoulidés (Georger th.) Hafız Mehmet Esad Kara Mustafa Zade Karamvalis et Cie, Surmelis (Jourdain J) |
| Exchange Offices Emirza Fréres-Mazmanian (H) Ohannessian Fréres- Ozanian (Nichan) Soumoundjian (A) Spathoupoulo (G.V.)-Tabakdjian (M) | Clubs Turkish: Hürriyet ve İtilaf, İttihat ve Terakki Armenian: Hentchakian, Tachnaktzioutioune, Rum: Argonafti |
| Marine accident Experts Cacoulidés (C.N.) Sharighian (Oh)Hochstrasser et cie Khidichian (H.K)- Khidichian (M) Pisani[dés] (G:C.)- Sourmelis (J.J.) Vélédian (Agop A) | Commissionaires Bedlian, Shahrighian (Ohannes) Hochstrasser et cie, Karaghousian (A), Fréres Khidichian (H.K)- Khidichian (M) Fils Küçük Zade (M)-Narlian (Kircor) Papadopoulo (N) Fréres, Pavlidés (Const. Cyrille) Pisani [dis] (Alex C.)- Pisani [dis] (Charlie A.) Surmelis (J. J.), Spathopoulos (I) Fils Tokatlian (M.G.) etnegociant, Surmelis (J. J) |
| Steamship Companies Deutsche Levante Unie, Hoehstrasser et Cie', agents., Gumuchdjian. A. Vélédian, agent. Lloyd Autrichien, Algardi (G ) agent Messageries Maritimes, Genna T., agent. Narigazione Gie ltaliana,Genna T., agent. Nurddeutscher lloyd, Hochstrasse et Cie,ag. Paquet et cie, Pylossian M, agent. Russe de narig a vapeur et de commerce, Collaro (André), agent. , Yannoulato Frères, N. Papadopulos Fréres,agente | Shoemakers Alexandridés L ).—Anastassiadès (Ant.). Kambouroglou (G). kokmanian (M). Macridés (EL). Pliilippidés (H) Tomassian (K).—Tompoulis (Eust ). Tompoulis (Eutropius). |
| Confectioners Ekonomidés (Lazarus Hamza ZadeHüsni- Tchakirian (Hatchik) | Dyers/Polishers Makridés (Basilé S.) Panides (M) – Spathopoulos (G) |
| | |
| --- | --- |
| Furriers Anastassiadis (Anesti). Indjéyan (Dan.).—Khidichian (H. K.) Macridés (N.S.). Spathopoulos (D.) Fils. Spathopoulos (G. V.). | Shoemaking furniture components Anastassiadis (Anesti). Indjeyan (D.).— Macridè (Nicolas). |
| Colony products Cacoulidés (Georges Th.). Cacoulidès (N. Th.) Caramvalis (M. P) et Cie Haci Ahmet Zade Arif. Hafız mahmut Essad Kara Mustafa Zadé. Pallassoff (Basil). Sarı Mahmut Zadé Eşref. Sourmelis (Jourdain J.). | Clothiers Ghougaasian (D). Khaténeasian (Léon), Odahachian (Karink).— Seridjenian (P) Tchirdaklian Frères. |
| Drillers loannidés (Aristide). | Hotels Constantinople, tenu par Mouhacir Ağa Houriet, tenu par Pacha Reize Kérasunde, tenu par Cacoulidés. Mer Noire.tenu par Mietaxsopoulos (Lazaros) SeIonique, tenu par Dicran Zorian. Théophilo-Palace, tenu par Théophilos |
| Woollen drapers Féloukidés (N. S.) et Cie. Ipranossian Frères. Papadopoulos (C. N.). Tcbihlakian (V. et V.). Valavanis (Georges). | Olive oil sellers Cacoulidés (Georges.Th.). Hafiz Mehmet Esad Kara Mustafa Zadé Karamvalis (M. P.) et Cie. Pallassoff ( Basile). Sarı Mahmut Zadé Eşref. Sourmelis (Jourdain J.). |
| Entreprisers Société Générale d'enterprises | Sewing machines Singer, Dédian (K.), agent. Basile Calvocoressi, secretaire-caissier |
| Grocers Baron-Vartian (Vahram). Chrissopoulos Frères. Gümüşoğlu (Mehmet Ali). Narçin Zadé – Phocaidis (Jean). | Drapers Galonian (Arom). ctures Karagheuzian (Papel).— Odabachianan férres |
| Flour importers Baron Vartian (Artin). Baron Vartian (Ohan). Baron Vartian (Toros). Cacoulidés (Georges Th.). — Delicaris (A.). Delicaris (M.). Eşref Sarı Mahmut Zadé. Guetchian Frères. Hafız Mehmet Esad Kara mustafa Zade Narlian Kirkor_ Pisani[dis] (G.C.) Palassoff(B)- Sourmelis (J J) | Manufactures Adjadj (Youssouf), Atmadjidès (D).— Atmadjidès (K. S.). Atmadjidés (Costi). Baghdadlian (Manoug H). Dadian (Sarkis).— Delicaris (Haral. B.). Féloutikidès (N. S.) et Cie. Gulemirian (Agop). Gulémirian (Oh.) et Fils. Hacı Ahmed Zadé Saleh. Hourbiliadés (Elie P.) et Fils. Hussein et Luzaros.— Ipranosaian Freres. Khidichian (Ohannès). leptourgos Frères.—Osman Zeki et Cie Papadopoulos (C.) et Tchorbadjoglou- Pappadopoulo (N.).— Puppadopoulo (J ) Sari Alemdar Zadé Hafız et Cie. Soulemezidès (k.) Fréres. Stefanidès (L. et Sp.) Tadjali Zadé Temel. Tahakjian (Hovhannès). Teherkezian (Archam). Tcbihlakian (Kalust Man.) Tcbihlakian (Vartan). Tchirdaklian Fréres Varytimos (Nicolas)- Xantopoulos (H) |
| Doctors Aslanidés (Elies)-Baron Vartanian (Nichan) Eyub Mehmed Efendi, Belediye. Deligeorge (C)-Malcosti (Arist.) Papadopoulos (Chr.)- Saoulidés (N) Seraidarian (Mihran)-Sefanidis (P) | Stationers Ahmet Nafiz Zade Ahmet Çimşit Zade Hafız Hacı Ahmet Zade Narlian (V)-Papadopoulo (Anastase) |
| handkerchief pressers Cacoulidés (A) fréres | Mills Mavridés (G.P.) Fils |
| Exporting merchants Baron Vartian (Artin G.) Baron Vartian (Ohannes) Cacoulidés (Georges Th.) Caramvalis (M.I)et Cie. Delicaris (Arist.) – Delikaris (Mildi) Eşref Sarı Mahmut Zade Hacı Ahmet Zade Arif Khidichian (H.K)- Mavridés (G) Fils Mironidis (G)- Palassof (Basil H.) Pavlidés (G.C.) Pisani [dis] (Alex C.)- Pisani [dis] (Charlie A.) Pisani [dis] (Ch.A.)- Pisani [dis] (Georges C) Surmelis (J. J.), Spathopoulo (G) Tokatlian (M.G.) | Exporting merchants Alexandridés (N et P.), Cacoulidés (Georges Th.) Avestopoulos (D)- Cacoulidés (A) Fréres Eşref Sarı Mahmut Zade, Hafız Mehmet Esad K. Mustafa zade, K. Mustafa Z. Mustafa Asım Hermidés (Paralampos Th.), Hourbiliadés (Elie P) et Fils, Hochstrasser et cie, Jamagotchian (Bedros K), Kalpidis (lazaros), Khidichian (M) Fils Leptourgos (M.G.)-Mironidés (G) Palassof (Basil H.)- Pavlidés (G.C.) Pavlidés (G.C.)- Pisani [dis] (Alex C.) Papadopoulo (Ep), Papadopoulos (N) Fréres Pisani [dis] (Ch.A.)- Pisani [dis] (G. C.) Seitanidès (P.) Frères. Sourmelis (J. J.) — Spathopoulo (P) Fréres Spathopoulo (D) Fils., Spathopoulo (P.) Frères. Spyridès (Anesti P). , Stefanidis (L. Et Sp.).—Tokatlian (M. G.). Tombouli Frères.—Tchitnoglou (Ant ). Veledian (Agop A.). |
| Clothing Shops Elefthériadès Fils. Kambouroglou (Georges). Tompoulis (Georges). | Egg sellers Cacoulidis Frères. —Pavlidès (G. C.), ihracatçı |
| Sigara kağıdı Pavlidès (Const. Cyrille), ithalatçı | Leather Merchants Eşref Sari Mahmut Zade. Emriza Frères. Khidichian (H.K.) .Tokatlian (M. G.). |
| Pharmaceutists Baron-Vartian (E.).-Christos. Kilidjian (Vartan).- Tchilchckian (A.). | Fish sellers Jamagotchian (Bedros K.). |
| Restaurants Lazari (Charalambos). Pappadopoulos (Pantcho) | Hardwares and glasswares Anastassiadès (Lazaro). Haci Ahmed Zade Hafiz Ömer. Indjéian (D.).—Kelledjian (Roghos). Ohanessian (B. J.) et Fils. Ohanessian (N.). Oustabachian (Arakel H.). Papadopoulos (N. J.).— Pappadopoulo (A.;. Xanthopoulo (Th.). |
| | |
| --- | --- |
| Buharlı kereste bıçkıhaneleri Aksu'da işletilen Mavridès. Kulak Kaya, Zarifi (L.)et lPisani [dis](G. C.), işletmeci; Moïssiadès (C.), müdür. De Kiarour-Hendek[?] Delicaris (Nicolas), işletmeci | Terziler Diamandidès : A.).— Jamgotchian (Herant). Panidés (P.). Papadopoulos (Jean).— Sféropoulos (N.). Spartiadés (D.)-Spiridès (N. P.). Valavanis (Georges), |
| Tabakhane Spatopoulos (Georges V.) et Fils. | Kuru temizlemeciler Kirkkesselian (E. E.) Frères |
| Pencere Camları Kelledjian (Boghos). Khidichian (H. K.) Sourmelis (J. J.). | Şarap ve Likör Lazopoulos—Papadopoulos (Ep). Pavlidès (Coust. Cyrille).—Zarotiadès (D.) |
| Sigorta Aachen et Munich, incend., Hochstrasser et Cie, agents. Société Cie d'assur. ottomane, Pisani[dis] (Alexandre C.), agent. Alliance de Gènes, vie, Khidichian (H. K.), agent, Anatolie d'Athènes, vie, Pisani [dis](Charles A.), agent. British-America, Politès (Dem), agent. Commercial Union, inc.,Cacoulidès (Const.), agent. Consortium (The), Cacoulidès (Const), ag. Continentale, marit., Khidichian (M.) Fils, agent. Dacia Romnnia et Nationale Prussianne, Sourmelis (J. J.), agent. Kihnili d'Athéné, inc. et vie, Sourmélis(J. J.), agent. Fédérale, marit. Cacoulidès (C. N.), agent. Francfortoise, marit, Cacoulidès (C. N.), agent. General, inc., G. P. Mavridès, agent. Gresham, vie, Papadopoulo (N.) Foires, agent. Guardian, inc., Papadopoulo (N.) Frères, agent. Internationale, marit., Cacoulidès (C. N.), agent. Internationale Belge, maritime, Badlian (Vahan), agent. La Constancia, marit., Pisani[dis](Charles A.), agent. Lancashirt et Cheshire, inc. et marit., Khidichian (M.) Fils, agent. See overside | devam Law Union et Rock, vie, Khidichian (H.K.), agent. Lloyd Allemand, marit., Hochstrasser etCie, agent. Lloyd International, maritime. Néofitos (Alex. N.), agent. Lloyd Méridional, marit., Pisani[dis] (Charles A.), agent. Mutuelle Lyonnaise, Evrenian (Artin), agent. National British & Irish Miller's, incendie. Neofitos (Alex. N ), agent. National Coopérative, inc. et marit., Khidichian (M.) Fils, agent. Nationale-Vie, Néofitos (Alex. N.), agent. New-York, vie, Chahrighian (Ohannès),ag. Orient (L), vie. Pisani[dis] (Ch. A ), agent. Phœnix of London, Pisani[dis] (Georges), agent. Première Société Hongroise, Sourmelis(J. J.), agent. Providentia, maritime, Chahrighian (Oh.), agent. Provinces-Réunies, vie, Vélédian (Agop), agent. Royal Erchange. inc., Leptourgos (M), ag. Rossia [La), Palasaoff (Basile), agent. Union de Paris, inc.-vie, Vélédian (Agop), agent. Universo, marit., Chahrighian (Oh.). agent. Victoria de Berlin, vie, Cacoulidès (C. N.), agent. Western, inc., Khidichian (H.R.), agent. |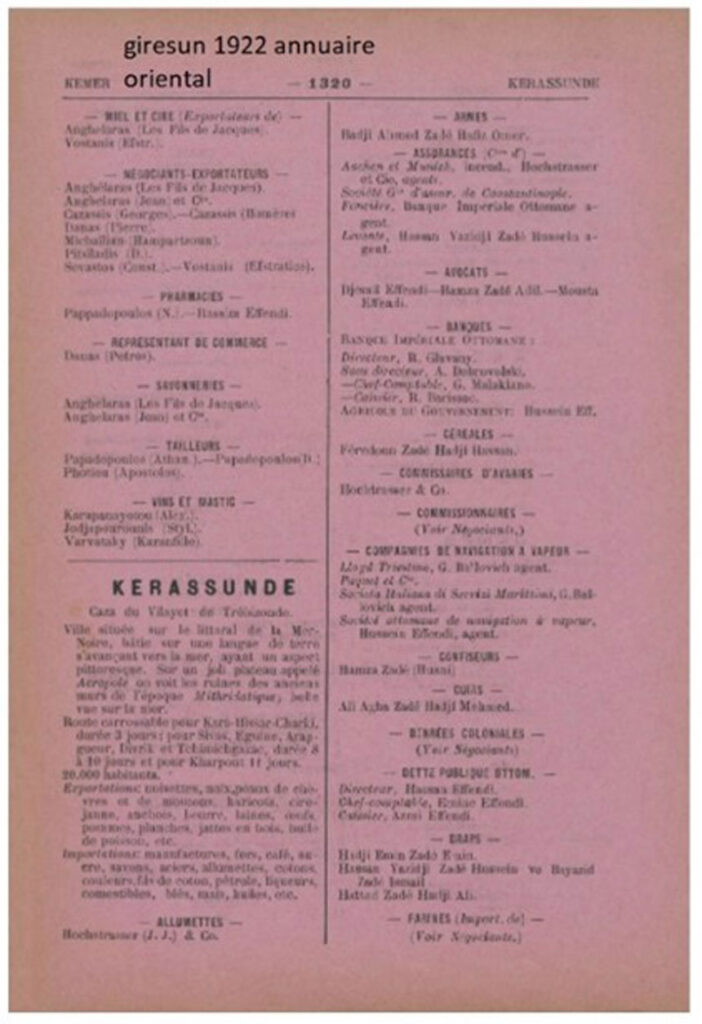 Giresun's social and economic life in 1922 (Annuaire Oriental pp. 1320-1321)
| | |
| --- | --- |
| Match Hochstrasser (J.J.)& co. | Confectioners Hamzazade Hasan |
| Arms Hacıahmet Zade hafız | Leather Ali Ağazade Hacı Mehmet |
| Insurers Aachen Munich Socvild d.de Cconstantinople Financiere I.imperiale ottomans Levante Hasan Yazıcı Zade Hüseyin | Ottoman public debt administration Director Hasan Effendi Emin Effendi Azmi Effendi |
| Lawyers Cemal Efendi-Hamzazade Adil- Mustafa Efendi | Moneychangers Hacı Eminzade Emin Hasan Yazıcı Zade Hüseyin ve Beyazıt z. İsmail Hattatzade Hacı Ali |
| Banks Osmanlı Bankası- R. Glavany Ziraat Bankası- Hüseyin efendi | Publishers İmpremerie National Direktör. Cemil Bey |
| Grain Feridunzade Hacı Hasan | Journals Yeni Kerasunde- Cemil Bey |
| Marine Experts Hochstrasser (J.J.)& co. | Doctors Şaban – İsmail |
| Steamship companies Llyod Triestine-G. Balovich Sociale İtailiane-G. Balovich Sociale Ototomane de navigation-Hüseyin Ef. | Merchants Abazazade Hafız Mehmet Anaforzade Kardeşler Feridunzade Hacı Hasan Hacı Ahmet Zade Arif Hacı Emin Zade Emin Hacı Emin Zade Esad Hasan Yazıcı Zade Hüseyin ve Beyazıt z.İsmail Kır Zade Şevki Hochstrasser&co Hochstrasser (J.J.)& co. Küçükzade M. Larçinzade Hakkı&Mehmet bey Selim&asım Tomaç Zade Dursun Yusuf Acaci Zekeriya Kaptan Zade Şükri |
| Pharmaceutists Şaban -Nationale | Hardwares and glasswares Hacı Ahmet Zade Hafız Ömer |
| Tobacco [Regie] Director Hakkı Bey | Window Glasses Hochastrasser (J.J.)& co. |
---
[i] Hayk Açıkgöz, Anadolulu bir Ermeni Komünistin Anıları, Ed. Attila Tuygan Belge Y. 2006
[ii] Sait Çetinoğlu, Exterminators Yok Ediciler ve Erdemli Müslümanlar, Péri Y. 2011 s 86
[iii] Vartkes Yeghiayan, Malta Belgeleri, çev. Jülide Değirmenciler, Belge y.2007 s 458
[iv] Vartkes Yeghiayan, Malta Belgeleri… s 380-381
[v] Vartkes Yeghiayan, Malta Belgeleri… s 382-383
[vi] Vahakn N. Dadrian-Taner Akçam, Tehcir ve Taktil, Divan-i Harbi Örfi Zabıtları, Bilgi Ün. 2008 s 705-710
[vii] Halil Erhan, 1915'ten 1980'e Karadeniz, Ermeniler ,Eşkıyalar, İnsanlar, Yaşamlar . İletişim. 2015, s 97
[viii] Halil Erhan, 1915'ten 1980'e Karadeniz…, s 111-120
[ix] Haşan izzettin Dinamo, Kutsal İsyan II. Cilt, Millî Kurtuluş Savaşının Gerçek Hikâyesi, May Y. 1977 s 348-349
[x] M.Şakir Sarıbayraktaroğlu, Osman Ağa ve Giresun Uşakları Konuşuyor, İstanbul 1975. S 105-106, (kitap bir kamu kurumu olan Fiskobirlik desteğiyle yayınlanmıştır.)
[xi]https://www.tbmm.gov.tr/develop/owa/tutanak_dergisi_pdfler.birlesimler?v_meclis=1&v_donem=d01&v_yasama_yili=4&v_cilt&fbclid=IwAR2dMuf2CIRzHZ-k5YDRbpgzXspkX71qJxayQpnmwbJICbtCAuJrBkx5FtU
[xii] https://ozhanozturk.com/2017/12/12/topal-osman-cetesi/